THE SOUND OF MUSIC

Written by Christine
I saw Christiana as Gretl in "The Sound of Music", in 1999. She was adorable, and had such a wonderful stage presence for an 8 year old. She had great interaction with Andrea Bowen, who played Marta, and Rebecca Luker who played Maria. In "So Long, Farewell", when Gretl's turn came to sing, the whole audience was like, awwww! The people next to me kept saying what a great voice and acting ability she had for a little girl, and they were impressed that she had been in three broadway shows by age 8.
LES MISERABLES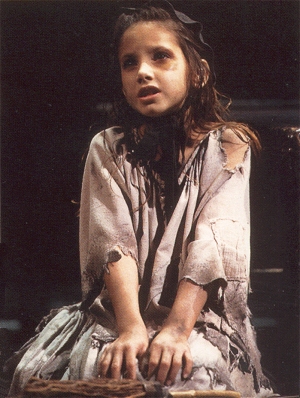 Written by Meredyth
Christiana is my favorite Young Cosette. I'm always impressed with how professional she is. I felt like she really knew the character and really had a sense of who Young Cosette was. It's a fairly small part in the show but she made it significant and memorable. Christiana also has great stage presence for someone that's so young.
Written by Tim
I think when I counted I came to only three times seeing Christianas Cosette, but it seems double that. However this is a good thing, in my opinion, because Miss Anbri has had enough time in the role to create a great, polished interpretation of the character. I think it goes further than good with her. In my opinion, shes a Broadway cast sentiment and Im always (well, out of the minimal three times Ive seen her) pleased to see her name in the playbill bearing my performance symbol.
Written by Jasmine
Yay! I finally saw Christiana Anbri. Id seen her before, but that was awhile ago and I was hoping to see her again, and I kept missing her. I like how obviously afraid she was of Thenardier, and what a contrast that was to how she absolutely beamed at Jean Valjean. I love the other girls too, but Christiana is a little more enthusiastic in her approach. I like how she giggles when she gets the doll, and how she skips away with Valjean when they leave for Paris. I can really see the connection between how she plays Cosette and how Sandra Turley does as an adult.